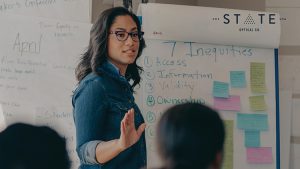 Jewelry is a great way to express yourself, and you have a lot of great options on any budget. Most people don't have the budget for a lot of expensive items, but there's nothing wrong with treating yourself on occasion! Fashion eyewear is a great combination of style and functionality, and it's a great way to give your everyday wardrobe a touch of class!
When you're looking for designer eyeglasses near me, look no further than Burrow's & Mr. Frank's Optical in Little Rock! We have five licensed opticians on staff that have over 75 years of combined experience, and we provide a customer service encounter that's second to none! Contact us today to learn more about our selection, and come visit our glasses shop in the Heights when you're ready to browse. We offer smart eyewear at a lot of great price points, and we're proud to carry the following brands:
Bevel
Cartier
Essedue
Chrome Hearts
Gucci
Lindberg
Lunor
Morgenthal Frederics
Robert Marc NYC
Salt Optics
State Optical
Zeiss Lenses
Designer eyeglasses are more affordable than you think, and they're a great way to class up any wardrobe. Our Arkansas licensed and National Certified Opticians are always happy to help you find the perfect frames to fit your budget, and you can always count on the personal touch. We don't offer eye exams or sell contact lenses, and we take a lot of pride in specializing in designer eyewear from top brands. You can find bargain eyeglasses just about anywhere, but you won't find a selection as extensive as ours. Whether you're preparing for a job interview, a wedding, or you just want to breathe a little new life into your wardrobe, we're here to help.
We've been in continuous operation since 1979, and we owe our success to a large amount of repeat business. We strive to treat every customer as the most important person that we have, and we take our commitment to service seriously. We don't just want to sell you your next pair of glasses, but every pair of glasses that you buy for the rest of your life! Give us a call at 501-664-9350 or contact us online and let us add you to our list of satisfied customers!